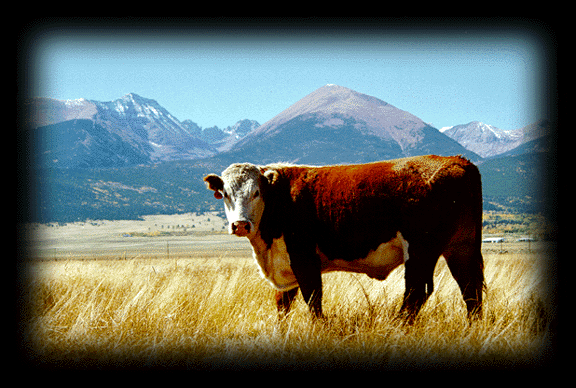 A V Bar Ranch Hereford Steer with the Sangre de Cristo Wilderness in the background

Grass Fed & Range Grown Beef
...What Does That Mean?
We raise our cattle the way nature intended. They are free to graze the range and forage at will... all of their life! When the cattle reach their ideal weight and condition, they are then gathered from the range land for market. Even in the Winter the cattle are maintained on the range with a free choice hay ration. We take great pride in the unique nutrition program that we provide for the cattle to balance their range diet and keep them in top health throughout the seasons of the year.
...What About Taste and Dietary Matters?
You will find that Grass Fed Beef has several unique characteristics. In addition to enjoying its wholesome and satisfying flavor, you will also benefit from a relatively lean beef which is also very tender. V Bar Beef is trimmed to within 1/4" outside fat and the ground beef is about 90% lean. You will also find that there is less fat within the cuts as well. All this adds up to your dollar well spent for your health and enjoyment.
...You Said Your Beef Was Natural?
Yes! Our grass-fed cattle are "raised in the beautiful Sangre de Cristo mountain range. We do not feed antibiotics or use growth hormones. Our beef is only minimally processed and we ensure our standard with a quality control program certified with the USDA. We invite you to visit the ranch! We would like to meet you and show you the cattle and the environment that is their home.
...What Does it Mean to Age the Beef?
V-Bar Beef is naturally aged for a period of weeks before cutting. This intensifies the flavor and naturally increases the tenderness of the beef. There is also less moisture lost during cooking, which leaves more beef for you to enjoy! Large packing plants have abandoned the practice for economic reasons. V Bar Beef considers aging a vital step and ages all its beef for a minimum of two weeks.
...Predictability
You have to start with good beef. That's why we use Herefords; a breed "...consistently rated superior to the USDA beef, regardless of grade, in tenderness, juiciness and flavor..."(source: The Colorado State University Hereford Study). These cattle also have the hardiness to thrive at our 8,000 foot to 14, 294 foot elevation year round.
...Peace of Mind?
Wouldn't you like to know where your beef comes from, what it is and what it is not? V Bar Beef offers you the peace of mind of knowing that the cattle are raised by the V Bar Ranch family. The Rushers hand pick the cattle as they reach the perfect end point. It is a family operation from the bottom to the top. Our four children, Ben, Autumn, Katlyn and Weldon all do their part to help get the ranch work done. Our family' s future depends on delivering beef to you that once enjoyed, you just can't do without... at a price you feel is fair.
...Who Processes and Packages the Beef?
Elizabeth Locker Plant of Elizabeth, Colorado has been family owned and operated since the early 1920's. A USDA inspected facility, using state of the art packaging methods, they are the final link in providing you with the finest beef you have ever enjoyed.
Does V Bar Beef Offer Grain-finished Beef?
Yes! For those of you who seek grain-fed beef, V Bar Beef offers top-quality grain-fed beef on a seasonal basis. Our grain-finished beef is unique in the industry. The cattle are maintained on the range throughout the grain feeding period and they are not overfattened.
Because We Care:
V Bar Beef tastes so good, we guarantee you'll like it. If you are not completely satisfied, you may return the remaining beef for refund or replacement. Our guarantee is honored at any purchase location. Of course, if you think our beef is as terrific as we do, we want to hear from you too!
Buying V Bar Beef:
We are developing a presence in various retail stores with some of our products. Contact us for retail locations near you. We can also send beef direct to you by Federal Express if you are not near a retail location or wish to buy products not offered by your local retailer. The on-line order form is in the "Order V Bar Products" section of this Website.
Listen to what our customers have to say:
V Bar Beef,
"Fantastic taste, best quality beef I've had in Colorado. In two months we have reduced our weekly grocery bill that the beef is paid for with over 50% left. Great packaging too. You can see through it to plan the cut you want for dinner, then defrost with no mess."
Eric Owens, Colorado Springs, Colorado
V Bar Beef,
"The flavor, quality and packaging of your beef is exceptional, and we would highly recommend your beef"
David and Connie Jack, Pueblo West, Colorado
Dear Rushers,
"I had almost forgot what real good grass fed beef tasted like until my mouth met up with the V Bar brand. The only way anyone would know what I'm referring to is to try it themselves"
Stan Cook, Denver, Colorado
Dear V Bar Beef,
"We love your grass fed beef ! Over the last several years, I have gotten so I would rather just go without, rather than eat the typical grocery store feed-lot raised meat. Please order me another grass-fed half beef."
Dave Johnson, Pasco, Washington
"Excellent, tender, flavorful! Steaks, roasts and hamburgers are the best we've had in Colorado."
Dave and Karen Purnell, Westcliffe, Colorado

V Bar Natural Range Grown Beef
Specialty Meats & Products
The following descriptions will help you choose from our selection of Natural Beef products. These products can then be ordered from us using the on-line order form.
| | |
| --- | --- |
| Item | Description |
| H | Beef Half (custom cut) |
| Q | Beef Quarter (1/4 of all cuts) |
| B | Beef Bundle (1/8 of all cuts) |
| T | Freezer Teezer (half of a bundle) |
Pounds of take home meat to expect (may vary 15%, plus o minus):
| | | | | |
| --- | --- | --- | --- | --- |
| Product Description | H | Q | B | T |
| Steaks (Rib, T-Bone, Flank, Top Loin) | 48 | 24 | 12 | 6 |
| Round (Minute Steaks, Round Steak) | 18 | 9 | 4 | 2 |
| Roasts (Chuck, Arm, Rump, Brisket, Heel of Round) | 60 | 30 | 15 | 7 |
| Ground Beef (90% lean) | 68 | 34 | 17 | 9 |
| Stew Meat (Boneless) | 8 | 4 | 2 | 1 |
| Short Ribs | 14 | 7 | 4 | 2 |
| Liver | 4 | 2 | 1 | 1 |
| Total | 220 | 110 | 55 | 28 |
Perfect gifts or just right for the occasional beef eater. Fits the small freezer.
Item

Description

Approx. weight

P-1

Variety Pack--with tenderloin

(12 to 14 oz. tenderloin, 2 New York Strips,

2 sirloin steaks, 4 one lb. pkgs. lean ground beef)

7.5 lb.

P-2

Variety Pack--with rib steak

(Same as P-1 with 2 rib steaks replacing the tenderloin)

8.0 lb.

P-3

Minute Steak Pack

(Extra lean and extra tender and so versatile! Great for fajitas, stir fry,

oven bake and chicken fried steak. 7 to 8 pkgs. with 2 servings per package)

6.5 lb.

P-4

Ground Beef Pack

(possibly the most delicious ground beef you'll ever eat! 8 one lb. pkgs. 90%lean)

8.0 lb.

P-5

Ranch Pack

(For some of the simplest and most satisfying meals, you will enjoy this pack. We include

our favorite recipies for each cut of beef. Includes 3 beef roasts at 3 to 4 lbs each, 1 brisket

at 4 to 6 lbs, 1 flank steak at 1.5 to 2.5 lbs and 10 lbs of premium ground beef.)

26 lb.

GC

Gift Certificate

(A great answer to a difficult question.)

Be generous!
We ship by Federal Express

Treat yourself to a healthful snack--flavored to please kids and adults alike! We use top quality lean beef to make these delicious convenient snacks! Customer comment #1: "They are not greasy!"
Item

Description

Weight

CS

Cured Beef Sticks

(2 one oz. sticks per pkg., with a preservative)

2 oz.

NS

Beef Sticks

(2 one oz. sticks per pkg., no preservative)

2 oz.

NJ

Beef Jerky

(strips of whole muscle jerky from the top round, no preservatives)

1 lb.

JJ

Jerky Jar with Lid

(Attractive jar with label, holds one lb. of jerky)

1 lb.
For the Deli
RB

Smoked Roast Beef

(Eye of round, smoked, tender, moist)

5-8 lb.
Products on Trial -- Getting great feedback!
HI

Hot Italian Sausage - Fresh

(2/3 beef and 1/3 pork, lean, no gristle, natural casing)

1/4 lb. links

MI

Mild Italian Sausage - Fresh

(2/3 beef and 1/3 pork, lean, no gristle, natural casing)

1/4 lb. links

AB

All Beef Franks - Smoked

(old fashioned, with natural casing)

1/4 lb. links

GS

German Sausage

(fully cooked, 80% beef & 20% pork)

4 lb.
Cuts available on a first come first served basis as inventory allows.
SS

Surplus Steaks

(boneless rib steaks, sirloin or tenderloin)

random

FS

Flank Steak

random

BK

Brisket (closely trimmed)

random

GB

Ground Beef (any quantity available)

1 lb. pkg.

BP

Ground Beef Patties (3 per pkg. at 1/3 lb. each)

1 lb. pkg.

BT

Beef Tongue

random

BL

Beef Liver

1 lb. pkg.

CO

Custom Order

(Let us know your special needs & we will do our best to fill your order.)

random

"The cattle always go with the Wind during a storm" - John Rusher