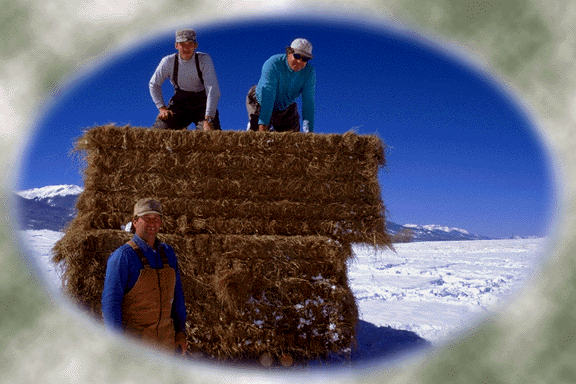 Valley Rancher John Rusher with "Hired Hands" Deputy Sheriff Matt Thil and Arthur
Friends:
For those of you who are cattle ranchers in the Sierra Mojada Valley, there is an opportunity to supply live cattle to the Coleman Cattle Company of Denver, Colorado.
The Coleman Cattle Company currently processes 52,000 animals a year into Natural Beef Products. Even a small increase in sales for the Coleman Cattle Company can produce an increase in demand that would consume the entire years production of the typical Sierra Mojada Valley rancher.
As an example; if current sales of Natural Beef at the Coleman Cattle Company increase by just 1.5 percent, they will need an additional 780 animals a year that you might like to supply to them. The current demand for Coleman Natural Beef exceeds their supply.
From the research I have done, the grass fed cattle that we raise in our Valley meet the requirements of the Coleman Cattle Company. The best match that I have found so far is between the Coleman Cattle Company and John and Elin Rusher's V Bar Ranch as far as having similar approaches to raising Natural Beef. The V Bar Ranch is on the Web at:
http://sangre-de-cristo.com/westcliffe/v_bar_ranch
The Coleman's have recently added a section to their Website on how to be a supplier of live animals and processed meat to the Coleman Natural Beef Company. I contacted Carmella Miller at the Coleman Cattle Company after exploring the Coleman Website and she was interested in what the valley ranchers have to offer....
I have included a link to the Coleman Website if you want to explore this opportunity:
Another Idea came from exploring the Website for Jim Schwertner's cattle brokering business which is on the Web at:
Schwertner's Texas based company sells up to 1500 live animals a day by publishing digital images of the animals for sale along with a description of the animals in their Website. Perhaps we could use Schwertner's services or set up a similar cattle brokerage business of our own in the Sierra Mojada Valley.
As always, you can lead a horse to water but he may not want to drink.... it is up to the individual Valley rancher to take the next steps to explore these opportunities....
Arthur Vyn Boennighausen - Webmaster