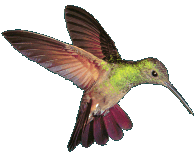 Project Hummingbird
---
Conceived in early 1990. Project Hummingbird is a 13,680 square foot, 4.8 million dollar Mechanical Reliability Laboratory.
Hummingbird was constructed as an annex to StorageTek's building 10D in Longmont and was completed in September of 1991.
.
This Engineering laboratory is a world class facility; literally the finest of its type in the United States and supports all StorageTek Research and Development programs.
.
The name Hummingbird came from the Engineering staff responsible for the project. They saw an analogous situation that occurred in the mountaineering community. Steve Roper and Allen Steck had spent weeks attempting a new route on Mt. Logan in Alaska. At one point of the climb, at the 17,000 foot level, they were about to give up when a Hummingbird appeared before them. The sight of this beautiful bird in such an unlikely location gave them the inspiration to continue. Eventually Roper and Steck completed the route and named it the Hummingbird Ridge.
.
This route has not had a second ascent.
. StorageTek
Learn More about the Advanced Packaging Technology Laboratory: "Hummingbird"
---