Thanks for Trusting us to be your Guides TM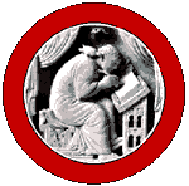 Templar St. Arthur
Professor of Mountaineering, Teacher, Bookseller, Eccentric Medievalist and Head Librarian of the SMS Scriptorium. Possibly the greatest living authority in the field of literature pertaining to Mountaineering and Exploration. What would Mountaineering be without the wonderful books that document our Quests and Communicate what we have Learned on the Mountain?
Click Here To Explore "The Scriptorium" Bookstore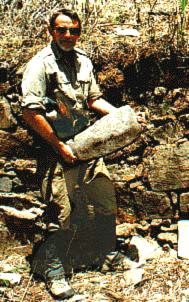 Dr. Gary Ziegler
Gary Ziegler started climbing while studying philosophy at Colorado College. In the 1960s, he studied archaeology in Peru, eventually earning a Ph.D. Choosing a path of adventure, Gary has spent several decades exploring the remote Andes.
His accomplishments include the discovery of new archaeological sites and the first ascents of seven major ice peaks. Along the way, he did a stint with U.S. Special Forces in Viet Nam, instructed for Colorado Outward Bound, staffed for the Peace Corps, worked for National Geographic, and chased bad guys as County Sheriff.
Click here to Learn more about Dr. Gary Ziegler
The image shows Gary following the route to Happiness....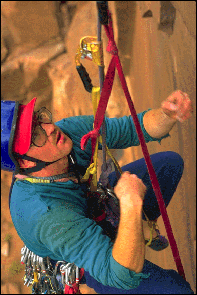 This could have been you !!
We are always Seeking "Great Spirits" to join the Sangre de Cristo Mountaineering School. Join the Team and be a Winner!
People with significant experience in leading people toward their goals are encouraged to Communicate their desire to join us. We ourselves have led balanced lives where we have integrated participation in multi-national Research & Development Teams and academic curriculums as well as acquiring high level technical skills as Alpinists. You should be well read and be able to participate in a conversation on almost any subject. Interpersonal skills are of paramount importance. Professors of Mountaineering; using the word "Mountaineering" as a metaphor.
The image shows an Alpinist roped soloing the "Touchstone Wall" (Grade V - 5.10, A3) in Zion National Park in Utah.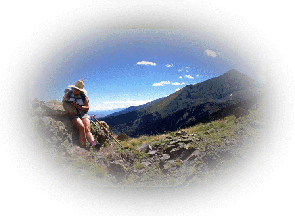 Marty Vyn Boennighausen.
Bachelor of Arts - Sociology. Systems Analyst. Co-Author of "Sangre de Cristo Campfire Tales", Student of Comparative Religion and Philosophy, SMS Gourmet Cook and SMS Webmistress. The great granddaughter of one of the "Great Spirits" - James Watt whose ideas and inventions such as the Steam Engine guided and shaped the evolution of mankind for generations.
Click here to Learn more about James_Watt
The image shows Marty near the summit of 13,000' Spring Mountain (Class III - Strenuous Hiking) in the Sangre de Cristo range of Colorado.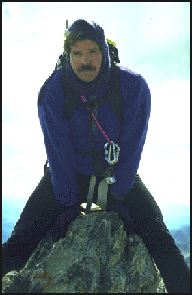 Arthur von Boennighausen.
Bachelor of Science Industrial Engineering. Master of Science - Software Engineering/Engineering Systems Analysis. Research Engineer, Author, Inventor, SMS Webmaster, Poet, Professional Storyteller, 25 years experience as an Alpinist specializing in solo and roped solo climbing techniques with over 1500 ascents in the course of these years, most of the ascents made as a soloist, Roman Catholic Scholar of Comparative Religion and Philosophy.
Click here to Learn more about Arthur
While not appearing lighthearted, Arthur knows how to have Fun in the mountains! The image shows Arthur on top of the 13,766' Grand Teton in Wyoming after roped soloing the 3000' long Direct Exum Ridge (Grade III - 5.8). "How was the climb?" people asked Arthur when he got down from the Grand Teton. "It was great Fun! Saint Elmo's Fire formed around me and I got hit by Lightning when I tried to climb above the summit." Arthur answered with an unusually bright gleam in his eyes.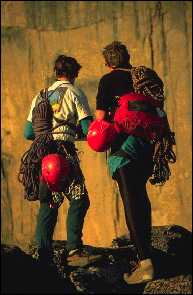 Michael St. Zinsley (Shown On Right).
Bachelor of Science - Aerospace Engineering/Geology. Geological Technician. 15 years experience as a professional guide and Geologist, Author of "Rapture of the Deep". Major ascents in North America, Alaska, Himalayas, Mexico, Canada, Switzerland and Borneo. Michael's credentials as an Alpinist are beyond what can be Communicated in a short biography. El Capitan, Half Dome, The Matterhorn, Devil's Tower, Grand Teton, The "Diamond" on Longs Peak, Castleton Tower, Mt. Olympus in Greece, Mt. Kilamanjaro, Mt. Kenya and the Sink in Boulder, Colorado are but a few of the ascents Michael has made, many times as a soloist.
Michael has a wonderful sense of humor that makes Being with him Fun!
The image shows Michael with a Friend about to start an ascent of the half mile high cliff known as "The Diamond" (Grade V - 5.10) on 14, 256' Longs Peak in Colorado.
---

Click on the image to send mail to the SMS Team. We Love to get letters!