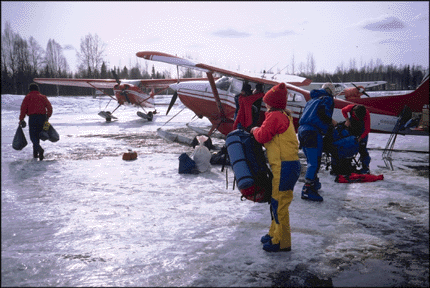 Image of Alpinists landing at base of Mount McKinley in Alaska
The Philosophy of the Sangre de Cristo Mountaineering School
---
Is your desire to go to the mountains and experience life, the mountain, the climb and your climbing partners to the fullest? This is our desire also. However, how is this achieved?

His Holiness - Tensin Gyatso, the XIV Dali Lama of Tibet taught us "Some routes to Happiness are easier than others... Carefully follow the path that seems like the most Fun!!" This quote pretty well sums up our philosophy here at the Sangre de Cristo Mountaineering School.
The climbing experience takes place every minute and every move along the way. It is living and experiencing each moment that adds up to a successful climb. It is also enjoying and sharing each step of the climb with each other that builds not only close climbing Teams, but long lasting friendships and lifetime memories.

The Sangre de Cristo Mountaineering School philosophy is to climb together as Friends out to experience every moment of every climb to it's fullest.
Brian Phillips of Rhode Island shared an unexpected encounter on 14,256' Longs Peak with a Colorado "Guardian Angel" with us. It is a good look at the Sangre de Cristo Mountaineering School philosophy being practiced. We invite you to read:
.
And one more Thought that has been one of our favorites left to us from Albert Einstein:
.
---

Click on the image to send the SMS Team e-mail. We Love to get letters!