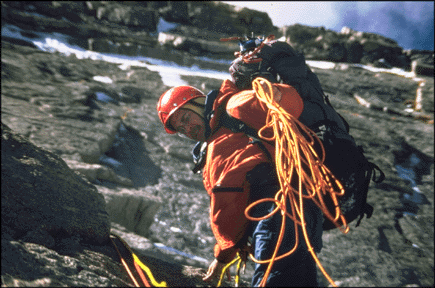 Image of Alpinist coiling his rope after rappelling
Sangre de Cristo Mountaineering School's Mission Statement
---
OUR COMPANY

A business built upon a family of relationships allowing all involved customers, guides, and office staff through friendship and sharing, to strive for our highest potential, fulfill our dreams and achieve genuine satisfaction, fulfillment and happiness.

Achievement of this goal will be pursued through exceptional attention and on going improvement to every aspect of our service. This includes unsurpassed individual attention to everyone.

We are a Team working together to use the mountain world to experience life and living to its fullest.


* INDIVIDUAL ATTENTION ALWAYS

* UNCOMPROMISED SAFETY

* CUSTOMIZED COURSES/CLIMBS

* PROFESSIONAL GUIDES AND EXPERT STAFF

* ARTISTS OF ADVENTURE

* SHOWING ENVIRONMENTAL/CULTURAL AWARENESS
---

Questions? Comments? E-mail the SMS staff. We Love to get letters!