Home
Toll Free: 1-866-SANGRES

e-mail: martyvynb@remax.net
Red Creek Ranch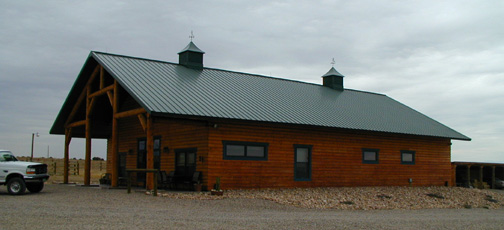 Red Creek Ranch - 224 acre Ranch with superb Horse facilities just 15 minutes West of Pueblo, Colorado. The magnificent Pueblo Resevoir with opportunities for boating, fishing and water skiing is even closer. The main Ranch house was constructed in 2001.

Property:

224 acres with Mountain vistas

Barn:

Heated, 12-15' vaulted ceilings, concrete floors throughout, 2-12x12 stalls with concrete floors, rubber mats and automatic waterers. Automatic pet waterer for cats and dogs.

Overall building:

See warranties, lightning rod system, vaulted ceilings 12-15' , all interior walls in house insulated for sound. R19 exterior wall insulation,R38 roof insulation.barn and house opperated on off-peak electric heat.

Exterior items:

4 automatic, heated pasture and holding pen waterers. all board and post in fencing is treated lumber. fencing is 2x6 mounted on 5 1/2 " round posts. all board fencing is covered by woven wire to prevent chewing. 6 individual feeding pens, 16x52' three-sided hay shed, 4 three sided run-in horse sheds lined with 3/4" exterior wood.

Six exterior automatic lights surrounding horse holding pens. Three large pasture areas. A 60'x180' sand riding arena board fenced. Exterior horse wash stall. Offered at $467,000.


Click here for a collage of images from the property
Marty Vyn Boennighausen @ Team RE/MAX